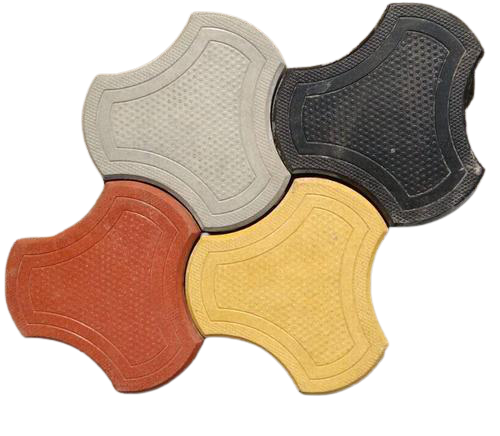 Paver blocks, also known as concrete pavers, are precast concrete blocks used for paving outdoor areas such as driveways, walkways, patios, and parking lots. Paver blocks are typically made from cement, sand, water, and aggregate, and they come in a variety of shapes, sizes, colors, and patterns.
One of the main advantages of using paver blocks for outdoor paving is their durability and strength. They can withstand heavy traffic, extreme weather conditions, and erosion over time. They are also easy to maintain and repair, as individual pavers can be replaced if they become damaged or stained.
Paver blocks are also a popular choice because of their aesthetic appeal. They come in various textures, colors, and designs, which can be mixed and matched to create unique patterns and designs. They can even be used to create intricate mosaics and designs.
Installing paver blocks is typically done by creating a stable base of crushed stone or gravel, followed by a layer of sand or concrete, and then placing the pavers in the desired pattern. The joints between the pavers can then be filled with sand or a special polymeric sand to lock them in place and prevent weed growth.
Overall, paver blocks are a versatile and durable option for outdoor paving projects that can enhance the aesthetic appeal and functionality of any outdoor space.
A two-layer paver with a smooth top surface that is typically utilized with colorful pavers. For places with light to moderate traffic, such as residential and commercial projects, this surface is suitable.
A single-layer paver that is frequently used in high-traffic locations, such as ports, roadways, container yards, etc.
Shot-blasting can expose costly coloured face mix materials, giving the surface a slightly rougher finish with a superior architectural finish. In general, high-end landscaping projects are desired.
Granite aggregates are visible and have a rough feel.It is generally appropriate for locations with heavy foot traffic.
Pavers produce a surface with ridges and pockets that resembles the look of natural stone. used frequently for driveways and paths.
There are five type of pavers namely:
Industrial Pavers:- Pavers that are best suited for hardscaping projects like ports, warehouses, container yards, and busy highways are those with strong load bearing capability and high abrasion resistance. Excellent possibilities are available for these powers' shapes, sizes, and colors.
Square Pavers:- Our square pavers are the ideal substitutes since they have an appearance and feel that is very beautiful and reminiscent of natural cobble. These square concrete pavers have a variety of variegated patterns and clean, crisp edges. These pavers work best in residential and commercial construction projects.
Modular Pavers:- We have established the idea of modular pavers, which entails connecting different-sized bricks in different patterns to provide additional design and color versatility. These pavers aid in transforming the outdoors into useful artistic creations.
Decorative Pavers:- Redefine your outdoor space with our unique & individualized paver modules. These pavers complement the surroundings and even breathe new life into any space. In addition to being sturdy and long-lasting, these pavers offer a fashionable, colorful, and appealing surface for roads, walks, pool decks, and entrances.
Flag Stones:- Larger concrete pavers are frequently referred to as FLAGS. Because there are fewer joints and the paving is seamless, the designer can employ more elements. Flagstones provide greater stability and slide resistance and are ideally suited for low traffic areas, such as walkways.