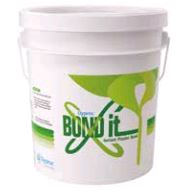 Excellent cohesive bond to RCC, Concrete and other surfaces.
Better adhesion /bonding due to lime /sand powder.
Application in one coat
Green in color for easy identification
Contains fine aggregates for better mechanical, as well as chemical adhesion
Bond IT, often known as a "bonding agent," is a special compound that provides a strong bond between the internal plaster wall lining made of gypsum or any other type of plaster and the RCC foundation. Because of its special composition of polymer, chosen sand fillers, additives, and polymers, it is coarse and has better bonding qualities. You are not required to physically improve the surface through hacking or any other technique. Bonding Agent is a plaster bonding agent that has been carefully designed for pre-treating smooth backgrounds. It has an aggregate that can be used to create a mechanical key.
Bond-it is packed in plastic buckets .The outer of the bucket is printed with the product image, safetyinstruction ,batch number ,date of manufacturing ,UOM,correspondence address and application
20 Kg, 10 kg, 5 Kg, & 1 Kg
APPROX . 6 months from date of Manufacturing
Technical & physical parameters
The surface that will get the BOND-it coating needs to be clean, dry, and free of any contaminants like oil or mould. All structural flaws must be fixed, especially any that could allow moisture to enter the building. With the aid of a brush or roller, prewetting must be done right before applying BOND-it.
| | |
| --- | --- |
| | |
| | |
| | |
| | Colloidal Solution With Suspended Solids |
Gyproc Bond-it is supplied in buckets . The dimensions of the buckets ensure that the containers. The buckets' proportions ensure that when filled, they provide a well-filled look and may be arranged on a pallet in a sturdy and orderly manner. Buckets ought to be kept in a cool, dry location. The material should be used as soon as the bucket is opened
The surface that will get the BOND-it coating needs to be clean, dry, and free of any contaminants like oil or mould. All structural flaws must be fixed, especially any that could allow moisture to enter the building. With the aid of a brush or roller, prewetting must be done right before applying BOND-IT
MIX material properly with clean rod to properly distribute solid particles in the solution
Use good quality paint brush. The brush should be cleaned with enough water immediately after use .Apply with even distribution of fine aggregates over the surface. Allow it to dry thoroughly for around 24 hours