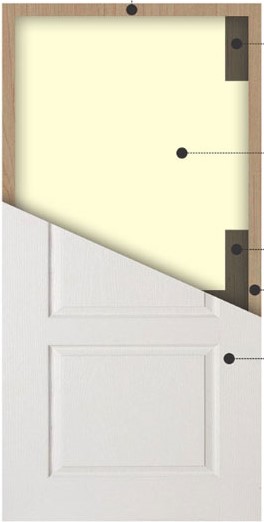 FRP Stands for Fibre Reinforced Polymer. It refers to the way the door is made, with layers of GELCOAT, Resins & Glass mat laid down & chemically bonded together, to create a durable material which is of great use. FRP is extremely strong, highly resistant to chemicals and thermally neutral.
Water, Termite and Chemical resistant.
Easy to drill, trim, polish and install.
Light-weight with high strength and stiffness.
Aesthetically pleasing
Dimensionally stable.
Cost-effective.
Maintenance-free.
High modifiable, with many variants and colors.
Wood has traditionally been the preferred material for building products, however it is a scarce resource and has led to serious environmental crises, including rapid depletion of forest cover. In the pursuit of finding suitable and superior substitutes, there has been extensive R&D for FRP (Fibre Reinforced Plastic) and GRP (Glass Reinforced Polymers).