Doors with Engineered frames (pre Hung Door concept)
A pre-hung door refers to a complete door unit that is preassembled and ready for installation. It consists of a door slab (the actual door), hinges, door frame (jamb), and often includes the necessary door hardware such as handles, locks, and strike plates. The term "pre-hung" implies that the door is already hung on the frame, making the installation process more convenient and efficient.
In Pre hung door concept, engineered wood (boiling water proof) material is used for the doors and frames and it is complete factory finish product.
In this concept door and door frame are installed after finishing of tiling and POP work.
By using this product builders, developers and contractors save time, money and resources directly and indirectly
In Traditional method – client has to coordinate with 6 diff agencies
Wooden frame vendors
Door frame installation vendors
Door supplier
Carpenter
Polishing agency
Form A
In pre hung door concept builders do not have to coordinate with all 6 agencies. They just have to coordinate at 1 pt for all above operations which saves a lot of time and money and also speeds up the project.
In traditional Method, for ordering doors, developer has to wait for tiling and POP, and once the tiling is done, exact measurement of door is taken and then only can they place order for door shutters. This takes atleast 30-35 days to deliver.
In pre hung door concept, once the civil openings are finalized, the doors and engineered door frames are manufactured at factory and kept ready, just before the tiling work. Once the tiling work is complete, very next day, this factory finished engineered frames and doors can be installed. This saves lot of time and money.
The unique design of engineered frame allows to absorb variation in heights upto 40 mm and variation in width upto 40 mm.
Thus by using pre hung door concept, developers saves 30/35 days of project completion time which is huge saving in terms of money and efforts.
Modular factory finished products
 Aesthetically pleasing modular factory finished products built exclusively for you.
Withstands harsh weather conditions
Impeccable quality material that can withstand all kinds of Indian harsh weather conditions.
Look & feel of Italian door
Doors with Italian grade finish crafted from the highest-grade materials.
Innovative frame concept that hides fasteners and flaunts an overall classy look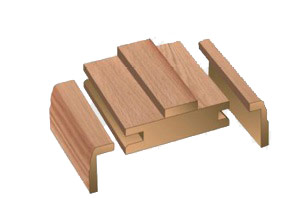 Professional Engineered Drawings
 Detailed engineered drawings with refined plans and specifications
Measurement to Installation service
Professional and quality measurement and installation services
HDF/MDF free frame and achitrave
Our unique door frame and architecture are MDF/HDF free which are the requirements of Indian weather and usage conditions.
Unique 3-way hinges that allows vertical, horizontal and depth adjustments to overcome variations on-site