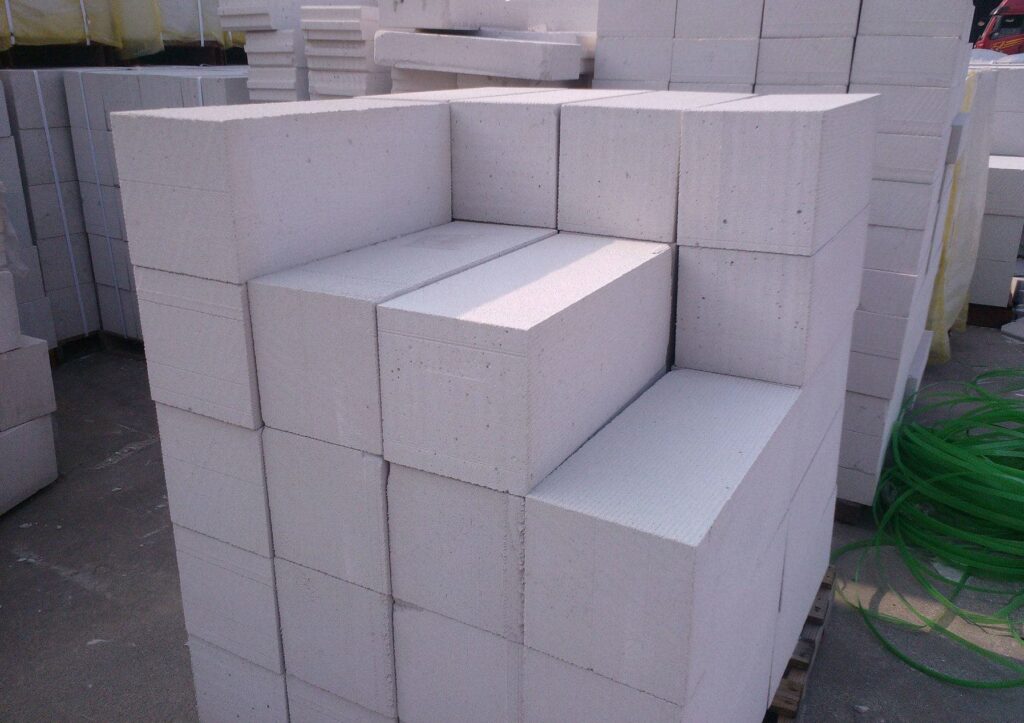 ⦁ Lightweight autoclaved concrete block.
⦁ Reduces structural cost.
⦁ Quicken construction upto 30%.
⦁ Reduces foundation load of the building upto 30 %.
⦁ Steel and Cement saving by 18% & 12% respectively.
⦁ Exceptional thermal and acoustic insulation.
⦁ Green building product.
Blocks made of autoclaved aerated concrete (AAC) are strong and lightweight construction materials. Johan Axel Eriksson, a Swedish architect and inventor first conceived of and developed AAC blocks in 1924. AAC blocks are renowned for its ability to withstand fire, heat, and sound. These building materials are often lightweight, weighing just about 30% as much as the more popular red clay bricks, with air making up around 80–85% of their capacity.
AAC blocks are often made with materials including lime, cement, sand, water, gypsum, fly ash, and calcium oxide (commonly known as quicklime). Towards the end of the process, aluminum powder chemically combines with them, causing hydrogen gas to release into the atmosphere. AAC blocks have a distinctive honeycomb structure, are lightweight, and have additional insulating qualities as a result of this chemical reaction.
These are then cured in an autoclave (exposed to high heat and pressure) after undergoing the appropriate moulding and mixing, which gives them the desired strength and durability.
What are the advantages of using AAC Blocks?
AAC blocks are typically nine times larger than standard clay bricks. This leads to better construction efficiency and quality, as well as a significant decrease in expenses at the site for things like plaster and mortar. Best-in-class thermal insulation is significant because it lowers the cost of heating, ventilation, and air conditioning (HVAC).
AAC material is frequently utilized in the construction of residential buildings, healthcare facilities, schools, hotels, and other industrial and commercial structures due to its high standards for workability and flexibility.
| | | | |
| --- | --- | --- | --- |
| DENSITY IN OVENDRY CONDITION | COMPRESSIVE STRENGTH, Min | COMPRESSIVE STRENGTH, Min | THERMALCONDUCTIVITY IN AIR DRY CONDITION |
| | | | |
| | | | |
| | | | |
| | | | |
| | | | |
| | | | |
For ready reference refer to the link below.
| | | |
| --- | --- | --- |
| | | |
| | | 600×200/ 600×240/ 625×240/ 650×250 |
| | | 75 | 100 | 125 | 150 | 200 | 230 |
| | | 5.25 | 7 | 8.75 | 10.5 | 14 | 16.10 |
| Compressive Strength** (min) | | |
| | | |
| | | |
| | | |
| Fire Resistance-load Bearing (200mm Thickness) | | |
| Non Load Bearing (100mm thickness) | | |